Julian Wilson gewinnt in Peniche Portugal 2012
Julian Wilson (23) gewinnt ein äusserst spannendes Finale gegen Gabriel Medina(18) in Peniche Portugal beim Rip Curl Pro 2012. Dazu natürlich auch von Rockfreaks Surfblog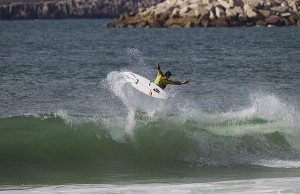 Glückwünsche an den Sieger! Spannender hätte das Finale Peniche gar nicht sein können. Nach dem in den Vorrunden schon der legendäre 11 malige ASP-Toursieger Ke11y Slater, der 2 malige ASP-Toursieger Mick Fanning und der derzeit führende in der ASP-Tour der Australier Joel Parkinson ausgeschieden waren, konnten es die die Jungen wilden unter sich ausmachen. Schon im Halbfinale konnte Julian Wilson mit einer spektakulären 19,27 Punkte Wertung Adriano de Souza aus dem Wettbewerb kicken. Aber was dann im Final folgte war an Spannung kaum mehr zu überbieten. Nachdem Gabriel Medina das Finale lange Zeit dominierte konterte Julian Wilson in den letzen Sekunden mit der letzten Welle des Finales und sicherte sich so den Sieg in Peniche. Als der Finale Heat schon zu Ende war wusste am Strand noch niemand wer gewonnen hatte und als die Jury ihr Ergebnis bekannt gab gab es für bei Seiten kein halten mehr. Jubel und Traurigkeit lagen dabei dicht bei einander.
Die besten Wellen und Highlights gibt es auf der Rip Curl Seite: http://live.ripcurl.com
Die original Fassung der ASP:
SUPERTUBOS, Peniche / Portugal (Friday, October 19, 2012) – Julian Wilson (AUS), 23, has claimed his maiden ASP World Championship Tour (WCT) victory today, besting a rampaging Gabriel Medina (BRA), 18, in the dying seconds of the Rip Curl Pro Portugal.
Stop No. 8 of 10 on the 2012 ASP World Championship Tour, the Rip Curl Pro Portugal played host to pivotal moments in the hunt for the 2012 ASP World Title as well as today's dramatic culmination between two rising superstars.
In a re-match of the surfers' Final bout from France last season, Medina and Wilson went blow-for-blow in today's Final in front of a capacity crowd at Supertubos. While Medina favored a more technical approach to the heat, executing a number of progressive maneuvers, it was Wilson's barrel sense and combination ability that ultimately tipped the heat in the final moments.
"I'm overwhelmed," Wilson said. "I lost to Gabriel (Medina) on the buzzer last year in France and to beat him back again on the buzzer, I don't even know how to describe the feeling. He was trying to hold onto the lead in the end there, he pretty much did what I did in the Final last year in France. He was too busy worrying about me, and that wave came in the dying moments and that was the scorer. I don't know what to say, I'm just so happy."
Wilson's final wave, a multi-section barrel followed by a number of turns, came in at an 8.43 and gave the Australian the edge with no time left on the clock. Both surfers arrived to the shoreline without knowing who had won the Final.
"I felt like I got the score," Wilson said. "Especially after my other wave that I got a 7 on, but at the same time the crowd was pretty quiet. I think there are a lot of Portuguese supporters out there. I didn't feel that confident walking up the beach; Wilko (Matt Wilkinson) had my back but he wasn't 100% sure. Then they just read the score out and I was so happy."
Today's win vaults Wilson from No. 12 to No. 6 on the ASP WCT rankings and sets him amongst the very best surfers in the world for the final leg of the 2012 season.
"My number one goal this year was to win one of these World Championship Tour events," Wilson said. "I won Huntington, which was pretty big but it wasn't a 'CT so there was definitely a space left in there for me to accomplish. To win here is just unbelievable."
Medina, who had been in devastating form throughout the entire event, held a commanding lead for the bulk of the hard-fought Final, but was unable to close the door on Wilson. The Australian's final ride narrowly edged Medina out of collecting a third elite tour win and the young Brazilian was brief in post-event interviews.
"That was a tough heat against Julian (Wilson)," Medina said. "Unfortunately he got the score on that last wave. I had a fun run through this event and the waves were really really good."
Today's Runner-Up finish moves Medina from 9th to 8th on the ASP WCT rankings.
Adriano de Souza (BRA), 25, 2011 Rip Curl Pro Peniche Portugal winner, smashed through Jeremy Flores (FRA), 24, in the Quarterfinals this morning but was unable to fight back from Wilson's early-heat blitzkrieg in the Semifinal battle.
"I feel good," De Souza said. "A third place is an amazing result and to be in the Top 3 guys in an event is an unbelievable feeling. I'm really happy to see Medina in the Final and representing Brazil, and I'm sure our whole country is proud to see him out there. It would have been amazing to have two Brazilians in the Final but Julian (Wilson), I really have to respect him, he's surfing amazing and he did so well in that Semifinal. Everything has connected for me these last two weeks. I was under pressure because France was not a good event for me and then to come here as the defending champ, it's a lot of pressure.. A third is a really good result towards my goal to finish in the Top 5 in the world. Brazil and Portugal have a great connection and we're friendly countries, the food and everything is very similar so I do feel like in my second home here."
Today's Equal 3rd place finish bumps De Souza from 6th to 5th on the ASP WCT rankings heading into the final two events of the season.
Joel Parkinson (AUS) 31, continued his standout performances at Supertubos this morning, besting lethal rookie John John Florence (HAW), 20, in the Quarterfinals. After a midday hold to allow the tide to readjust, Parkinson was unable to find a rhythm against Medina in the Semifinals and would have to settle for Equal 3rd at the Rip Curl Pro Portugal.
"Conditions were just terrible then," Parkinson said. 'This one rip went through and kind of messed it for a while and that was it. When we watched it earlier, there were barrels out there, it was kind of like before, but it seemed as soon as the tide started pushing it just turned bad. It's a bummer, but that happens sometimes and you just have to roll with it. An Equal 3rd is good. I'm really enjoying myself. If you had told me six weeks ago that between Trestles and now, I'd have two second places and a third, I would have probably taken it instead of a 9th and all that so bring on Santa Cruz."
Parkinson's Equal 3rd in Peniche further solidifies his frontrunner status on the ASP WCT rankings.
Highlights from the Rip Curl Pro Peniche Portugal will be available via http://live.ripcurl.com
The next stop on the 2012 ASP World Championship Tour will be the O'Neill Cold Water Classic in Santa Cruz, California from November 1 – 11, 2012.
For more information, log onto www.aspworldtour.com
RIP CURL PRO Peniche PORTUGAL FINAL RESULTS:
1 – Julian Wilson (AUS) 16.26
2 – Gabriel Medina (BRA) 15.37
RIP CURL PRO Peniche PORTUGAL SEMIFINAL RESULTS:
SF 1: Gabriel Medina (BRA) 13.80 def. Joel Parkinson (AUS) 5.27
SF 2: Julian Wilson (AUS) 19.27 vs. Adriano de Souza (BRA) 5.90
RIP CURL PRO Peniche PORTUGAL QUARTERFINAL RESULTS:
QF 1: Gabriel Medina (BRA) 15.60 def. Josh Kerr (AUS) 10.67
QF 2: Joel Parkinson (AUS) 15.07 def. John John Florence (HAW) 11.23
QF 3: Julian Wilson (AUS) 15.13 def. Owen Wright (AUS) 14.34
QF 4: Adriano de Souza (BRA) 15.57 def. Jeremy Flores (FRA) 9.80
RIP CURL PRO PORTUGAL REMAINING ROUND 5 RESULT:
Heat 4: Jeremy Flores (FRA) 7.34 def. Raoni Monteiro (BRA) 3.34
ASP WCT TOP 5 (After Rip Curl Pro Peniche Portugal):
1. Joel Parkinson (AUS) 52,700 pts
2. Kelly Slater (USA) 47,200 pts
3. Mick Fanning (AUS) 47,000 pts
4. John John Florence (HAW) 44,350 pts
5. Adriano de Souza (BRA) 37,650 pts

Julian Wilson gewinnt in Peniche Portugal 2012:






4,00 von 5 Punkten, basierend auf 2 abgegebenen Stimmen.

Loading ...